ייצור, ציפוי והשחזת גלילים
חברת קצב מוצרי גומי טכניים בע"מ מתמחה בייצור, ציפוי והשחזת גלילי גומי לכל סוגי התעשייה, תוך שימוש בידע מקצועי, חומרי גלם איכותיים, יכולות טכניות גבוהות וכוח אדם מיומן המבטיחים לכם את התוצאה הטובה ביותר לצרכים שלכם. אנו משרתים באופן קבוע מגוון רחב של תעשיות, בכלל זה נייר וקרטון, אריזות גמישות, למינציה, מזון, חקלאות, נגרות, טקסטיל, זכוכית, דפוס ועוד.

מוצרי תבנית
ייצור מוצרי גומי ומוצרי גומי משולבים עם מתכת או בד (דיאפרגמות) בטכנולוגיית הזרקה וכבישה, על פי שרטוט לקוח או דוגמת מוצר. חברת קצב מוצרי גומי טכניים בע"מ מעמידה לרשותכם למעלה מ- 50 שנות ניסיון בייצור ואספקת מוצרים בסדרות קטנות, בינוניות וגדולות בקרב מגוון רחב של תעשיות: ביטחוניות, אוויריות, מזון, מגופים, כימיקלים, דפוס ועוד.

מוצרי רצפה ומלתחה
מגוון רחב של פתרונות חיפוי לרצפה למניעת החלקה, הקלת עייפות ובלימת זעזועים ורעש לצד מוצרי מלתחה לבריכות, מקוואות, קאנטרי וספא, מרכזי ספורט, חדרי כושר, מפעלים, אולמות ייצור, חדרים נקיים ועוד. תוצרת החברות המובילות באירופה, המיוצגות בלעדית על ידי חברת קצב מוצרי גומי טכניים בע"מ.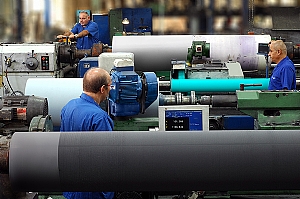 For the past 60 years, KZB Technical Rubber Products has been offering professional solutions for a wide range of leading entities in the local economy, including the Israel Electric Company, Rafael, the Ministry of Defense, Google, HP INDIGO, Amdocs, ITS, Haifa Port, Strauss, Tnuva, Clalit Health, government hospitals, leading hotels (Dan, Isrotel, Fattal) and more.
The company has 4 main fields of activity under 2 divisions: Industrial and commercial.
KZB technical rubber products:
Manufacture of technical rubber products. Our company prides itself on quality professional Israeli production, using advanced injection and pressing machines.
KZB Roll covering:
Manufacturing, covering, and grinding of rubber rollers.
KZB Matting and floor products:
Import and marketing of a variety of floor and dressing room products, safety slip-resistant surfaces, and fatigue relieve surfaces.
KZB professional kitchen equipment:
Importing, marketing, installing, and after sale services for professional kitchen equipment and cooking systems.
Quality assurance
KZB Technical Rubber Products (1987) Ltd. is ISO 9001: 2015 AND AS9100-D certified and manages quality assurance in accordance with the highest Israeli and international standards that are tested in accordance with the requirements of the law
Contact
Your message was sent successfully
Leaving details constitutes consent to the receipt of advertising material.